Not many people would be surprised that the Bureau of Labor Statistics' (BLS) general category of arts, design, entertainment, sports, and media occupations contains the highest concentration of self-employed workers nationwide.¹ Data show that, on average, nationally, self-employed individuals and freelance workers (also known as the "extended proprietor" class of workers) account for 44 percent of jobs in creative occupations*. Diving deeper, CVSuite™ data from Economic Modeling Specialists International (EMSI) show that more than one-third (36 percent) of jobs in creative occupations are from those working a second job.
DISCOVER THE PERCENTAGE OF CREATIVE JOBS IN YOUR STATE THAT FIT INTO THE SELF-EMPLOYED AND FREELANCE CATEGORY
Freelancers make up a significant proportion of the "gig economy" that emerged about a decade ago. Its rise roughly corresponds to the Great Recession, driven in part by the rising Millennial workforce and also in response to long-term changes in employment patterns as the workplace and jobs transition away from the 9-to-5.Sara Horowitz, the founder of the Freelancers Union, calls the gig economy "nothing less than a revolution" as employees opt out of traditional jobs and instead choose greater flexibility in their work-life equation.² As Wired extolled, "It's our friends, and our kids. And in 10 years it is going to be everyone."³
Broadly defined, workers in the Gig Economy perform specific jobs for a defined time period as freelancers/extended proprietors. However, these workers, who file 1099 tax forms, are not included in Quarterly Census of Employment and Wages (QCEW) data because they do not receive unemployment insurance. Therein lies a problem for measuring the creative economy: Who has an accurate employment count? The answer to this question matters from the municipal all the way up to the state level as policymakers debate budgets and devise schemes to bolster their creative economies.⁴
WHO HAS THE CORRECT DATA?
The most commonly used source of occupational data, the BLS, does not capture self-employment data or freelance jobs. The widely used Dun and Bradstreet data, which requires individuals and self-employed creative workers to obtain a D-U-N-S Number to be included in the data set, also might be masking the true size of the Gig Economy. To put it simply, businesses are generally not required to secure a D-U-N-S number and self-employed and/or freelance workers are assumed to be even less likely to do so than formalized businesses. This method for counting businesses could make these data blind to the expansion and/or contraction of creative economies.
CVSUITE™ INCLUDES SELF-EMPLOYED & EXTENDED PROPRIETORS
On the other hand, the CVSuite™'s labor market data, collected and analyzed by EMSI, track statistics for four distinct classes of workers. Those classes of worker are: Quarterly Census and Employment and Wages (QCEW), Non-QCEW, Self-employed and Extended Proprietors. CVSuite™ proprietor data (see illustration below) is derived from the American Community Survey (ACS). This includes workers whose primary income is derived from self-employment as well as "extended proprietors," those engaged in freelance work in addition to their day jobs. The other major benefits of ACS data are they are compiled on a monthly basis from a large sample of states and counties and are more accurate than data derived from a smaller sample.
FOUR CLASSES OF WORKER IN CVSUITE™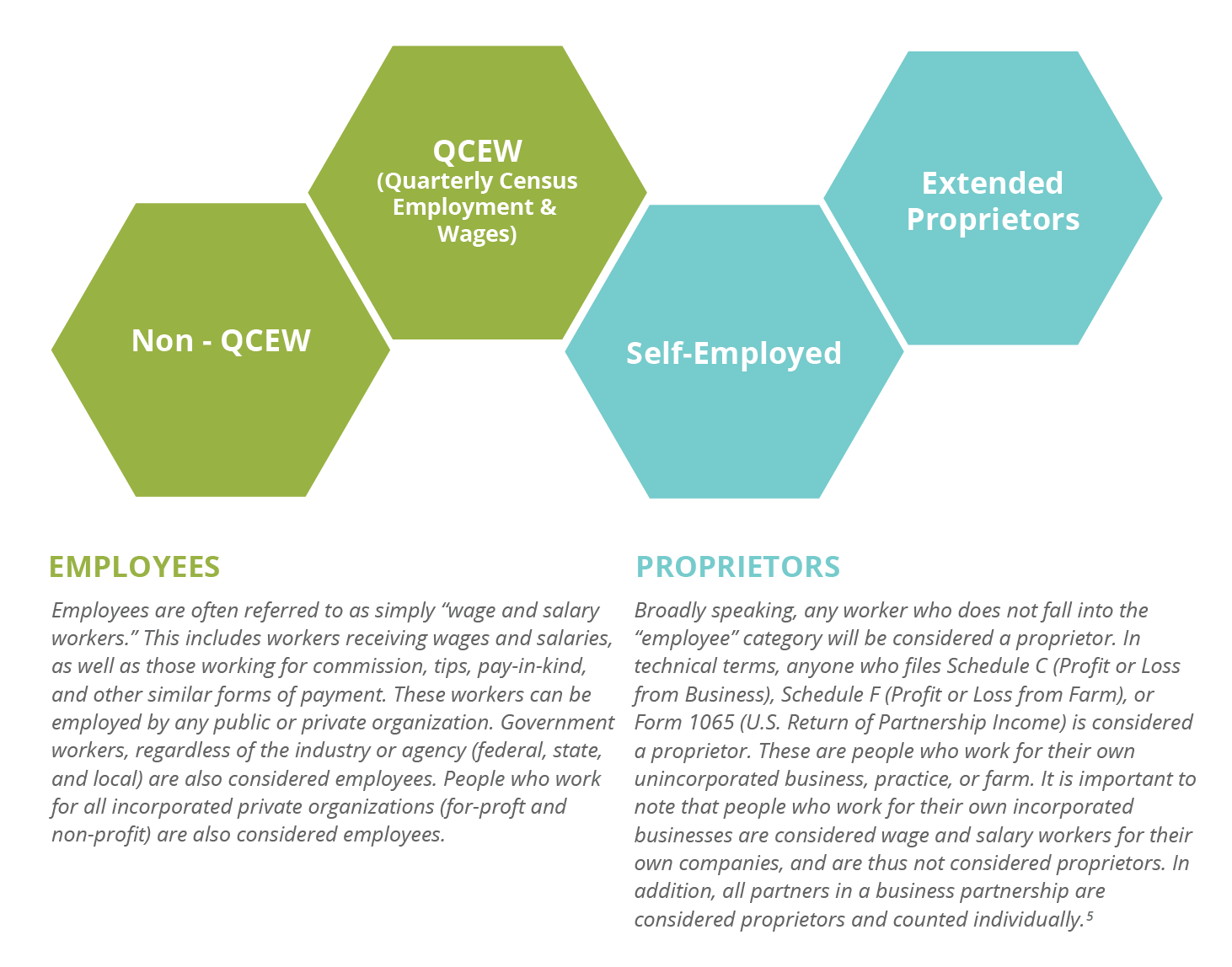 HOW TO USE CVSUITE™'S CLASS OF WORKER
The CVSuite data offer a window into the four classes of worker within the creative labor force for any geographic level (includes state, county, MSA and ZIPCode). In the Data Settings section (for more information, visit our class of worker section in the user's guide), select "self-employed" and "extended proprietors," which will exclude QCEW and non-QCEW employment types. For more information regarding the classes of worker and how to work with them visit EMSI's blog post on Four Classes of Worker.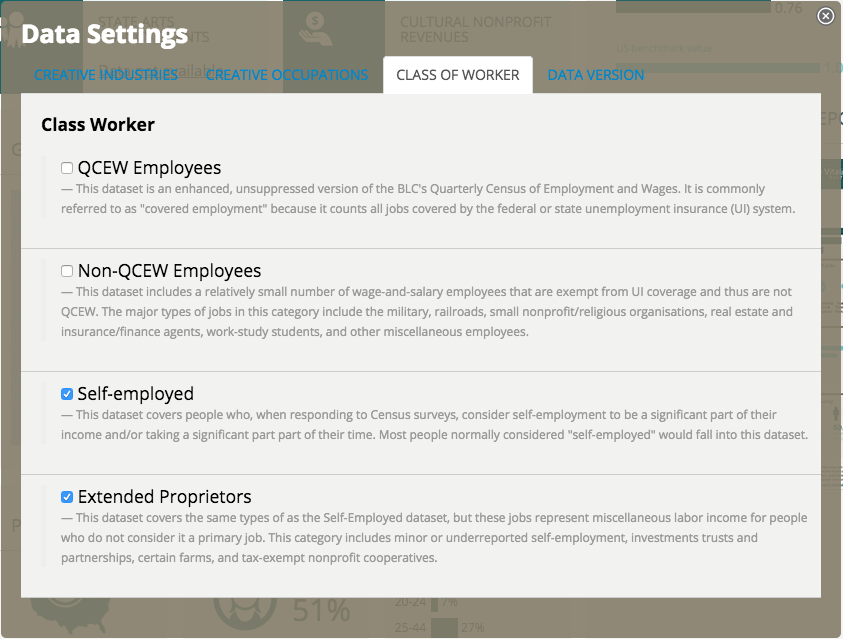 THE GIG ECONOMY AND THE FUTURE OF CREATIVE INDUSTRIES
Counting the instances of self-employed and freelance jobs in the creative economy pays off because it allows for better quantification of the true economic impact of the creative occupations in a given community. And the self-employed trend is expected to persist. The spread of the gig economy and the uptick in what has recently been deemed the micro-gig economy are highly pronounced in creative industries and show few signs of abating. Clearly, creative industries rely heavily on freelance labor. Arts advocates need the most accurate data available to demonstrate the significant contributions that such jobs can make to economic well-being of communities. As creative occupations/industries show a decline in QCEW employment, the number of extended proprietor jobs are increasing. Counting these new freelance jobs now will establish benchmarks that will accurately represent the evolution of the creative economy over time.
¹"Professionals in the Contingent Workforce," Fact Sheet 2014, Department for Professional Employees, AFL-CIO. Quoting U.S. Census Bureau, DataFerrett, Current Population Survey, Basic Monthly Microdata, September 2013.
² Sara Horowitz. "The Freelance Surge Is the Industrial Revolution of Our Time," The Atlantic, Sept. 1, 2011.

http://www.theatlantic.com/business/archive/2011/09/the-freelance-surge-is-the-industrial-revolution-of-our-time/244229/

. Accessed April 8, 2015.
³ Micha Kaufman. "The Gig Economy: The Force That Could Save the American Worker?" Wired, September 2013.

http://www.wired.com/2013/09/the-gig-economy-the-force-that-could-save-the-american-worker/

. Accessed April 7, 2015.
⁴Accurate data also matters in terms of government policies. As several economists and academics point out, the downside to the gig economy for many is "low wages, repression, insecurity, and chronic stress and anxiety." Economist Gerald Friedman argues that policymakers need to create new support mechanisms to replace those lost in the traditional job market, including: "enhanced unemployment insurance and guaranteed income and universal health insurance; establishing worker-controlled guilds to regulate access to gig work through hiring halls and hiring lists; and extending legal protections to workers' civil rights and health and safety while doing freelance and gig work." In "Cut-Throat Capitalism: Welcome to the Gig Economy," May 28,2014.

http://ourfuture.org/20140528/cut-throat-capitalism-welcome-to-the-gig-economy

. Accessed April 9, 2015.
⁵ Rob Stenz. "EMSI Data Update: Four New Categories" EMSI Blog, July 9, 2012


http://www.economicmodeling.com/2012/07/09/emsi-data-update-four-new-categories/