The CVSuite team recently featured a 5-part blog series, Our Creative Roots, focusing on the arts and economic development in rural America. In Part 5 Our Creative Roots, Resources to Guide Rural Communities, the CVSuite team highlighted helpful resources include Jackson Hole Public Art's Public Art & Placemaking Toolkit for Rural Communities. This 37-page guide assists rural communities in creating a successful public art program. Executive Director Carrie Garaci explains how Seeley Lake proved to be the perfect testing ground for the Jackson Hole Toolkit.
Executive Director Carrie Garaci on Case Study: Seeley Lake, MT
A rural town marred by a busy road? That may sound like an oxymoron, but such is the situation in Seeley Lake, MT. Many people passing through this scenic patch of northeastern Montana rarely slow down—much less stop—because Highway 83 and its 35 mph speed limit doubles as the careening main street. Enter Jackson Hole Public Art and our rural approach to creative placemaking.
Having spent the past six years trailblazing a public art program in the Tetons, we wanted to share our hard-won wisdom with other rural towns of similar size and setting. Turning to our long-time partner in public art projects, the LOR Foundation—and its mission to enhance the livability of the Intermountain West—we spent 10 months developing a placemaking toolkit geared toward the specific dynamics facing rural communities. POP—Places of Possibility: A Public Art & Placemaking Toolkit for Rural Communities is a 37-page compendium detailing all of the steps necessary to create a successful public art program in an isolated location.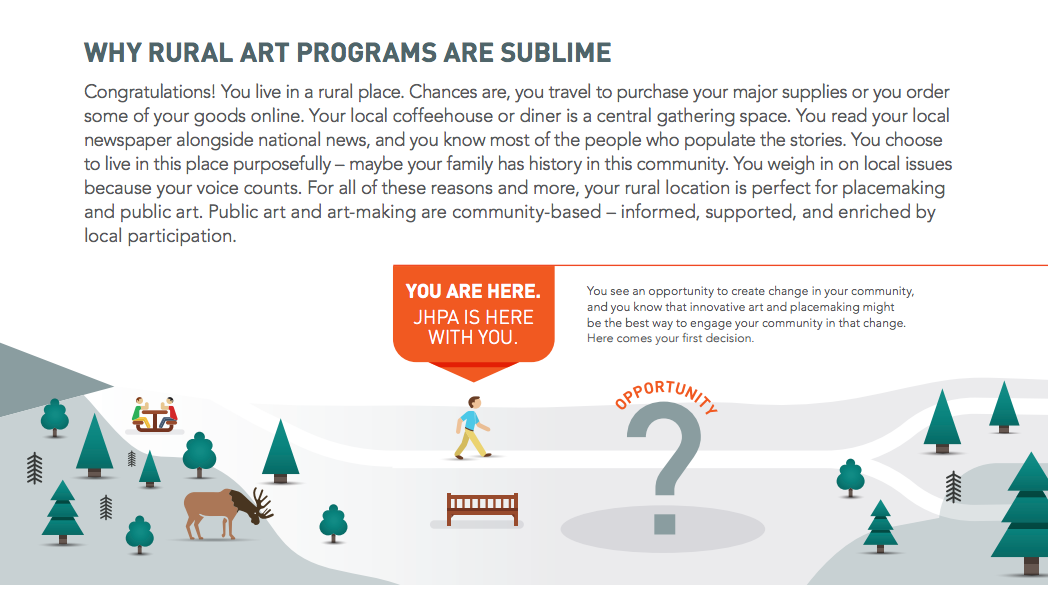 Seeley Lake proved to be the perfect testing ground for our Toolkit. Following our best-practices formula, we met with a plethora of community members, deployed our Mobile Design Studio—a trailer retrofitted as a placemaking hub, and logged long sessions listening, learning and identifying opportunities for temporary installations. Time and time again, residents spoke about the missed connection of their main street. So we set out to slow traffic and highlight amenities with art.
To achieve this, we enlisted our JHPA Public Artist-on-Staff Bland Hoke. Ever committed to working with local materials, Bland recognized the repurposing potential of the Seeley Lake lumber mill and its abundance of mill ends, planks he reimagined as the appendages of a jaunty tour guide. Recruiting a crew of residents, he installed a trio of 16-foot-tall stick figures. Each red silhouette serves as an artful arrow pointing to the community's main amenities: the lake, hiking trails and historic downtown.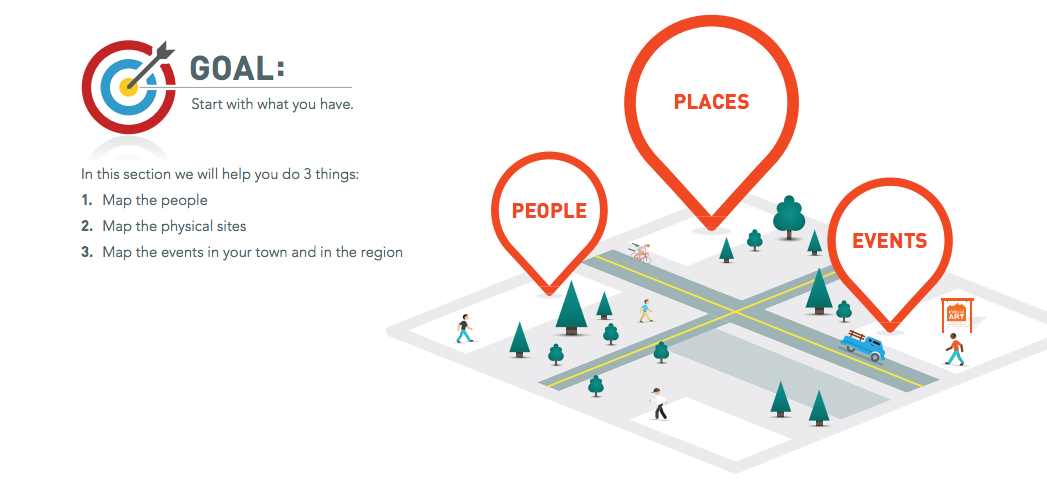 Proud of our success at Seeley Lake, we offer our Toolkit as a free resource, available to all to download from our website. For more information, please contact our Executive Director, Carrie Geraci at carrie@jhpublicart.org or 307-413-1474.
Through the CVSuite blog series Our Creative Roots, we have presented a number of ways in which rural interests have used the arts and creative economy to bolster the local quality of life as well as the local economy. Be sure to check out the entire Our Creative Roots series on CVSuite:
Our Creative Roots