This final installment of the Our Creative Roots blog series takes a look at initiatives, toolkits and resources that have emerged from art and creative economy work in rural areas. To review, the earlier posts in the blog series were:
Initiatives
Next Generation: The Future of Arts & Culture Placemaking in Rural America
The Next Generation initiative was designed and is facilitated by Art of the Rural and the Rural Policy Research Institute. Collaborating with an array of regional and national partners, the initiative seeks to engage public and private sector artists, organizations, and communities to collaborate, share innovative strategies and research, and promote leaders in the field.
The Next Generation initiative works through three interlinked structures:
Regional Networks: These networks self-define objectives, connect across community and economic development interests, and are used as a tool to design projects and convenings that best serve the needs of their regions.
Digital Learning Commons: The Digital Learning Commons is an inclusive platform for storytelling, research, and best practices. The Commons provides the structure for deeper collaboration on the development of case studies, policy briefs, publications, videos, and podcasts.
Rural Creative Placemaking Summit: Convened in October, 2016, at the University of Iowa, the summit brought together more than 300 leaders from 38 states. At the gathering, participants shared their work, built relationships, and envisioned ways to secure long-term support for rural creative placemaking.
To learn more about ways to become involved with The Next Generation initiative, click here.
National Rural Assembly
National Rural Assembly is a movement of more than 500 local, regional, and national organizations and individuals from 47 states. Participants in the Assembly are devoted to making the country stronger by improving the futures of rural communities. The National Rural Assembly provides an opportunity for rural community leaders to unite and advocate for policies that improve rural communities.
Toolkits and Guides
Heart & Soul Method
This method was developed by the Orton Family Foundation and is based on the concept that the emotional connections of a community drive community engagement in community planning and development. Their website provides an array of resources, tools, templates, and testimonials related to the Heart and Soul method. An especially rich segment of this material is on page 35 of the Community Heart & Soul Field Guide, where there is an insightful discussion of ways to extract meaning from qualitative data.

Public Art & Placemaking Toolkit for Rural Communities
Jackson Hole Public Art, an organization located in Jackson Hole, Wyoming, recently released the Public Art &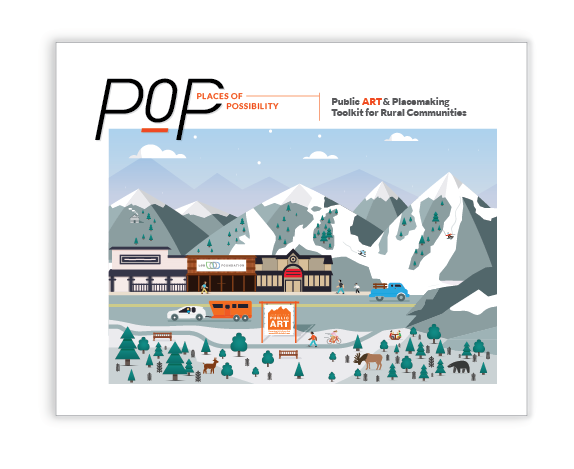 Placemaking Toolkit for Rural Communities. This 37-page guide is designed to help rural communities design and manage successful public art programs. In an upcoming CVSuite blog post, Carrie Garaci, Jackson Hole Public Art's executive director, describes how Seeley Lake proved to be the perfect testing ground for the toolkit.


Events and Workshops
Citizens' Institute on Rural Design
The Citizens' Institute on Rural Design (CIRD) offers annual competitive funding to communities with populations under 50,000. The Institute is a two-day community workshop that assists participants in the conversion of ideas into potential realities. The workshops bring together nonprofit, government, and local leaders to develop actionable solutions to participating communities' pressing design challenges. CIRD is a great resource to rural communities and can help them strategize next steps and learn from others. In addition to the learning resources on the site, CIRD invites rural communities to apply to host their own workshops, where they can develop actionable items that address the design concerns of the community. To learn more about the CIRD workshops, visit their website.
Rural Arts & Culture Summit
The Rural Arts and Culture Summit brings together rural artists, arts organizations, and community and economic development leaders to build long-term partnerships. Along with information exchanged at the Summit, the organizers offer a list of tools and resources for rural communities. These can be found here. Registration for the biennial Summit event is now open.
As more and more artists move to urban areas, the ways in which artists and creative activities are supported in rural areas are rapidly changing. Today, rural communities must be more creative and innovative with the arts in order to retain creative workers and infuse the arts into their communities. Through the CVSuite blog series Our Creative Roots, we have presented a number of ways in which rural interests have used the arts and creative economy to bolster the local quality of life as well as the local economy.