The Creative Vitality Suite launches new industry and occupation codes on August 26th. The new codes will enable users to explore the impact of culinary arts and restoration/construction in the creative economy.
CVSuite has new industries (NAICS codes) and occupations (SOC codes):
Culinary arts and architectural restoration play important roles in some creative economies. The inclusion of these two industry codes in the CVSuite data will allow agencies the ability to explore the impacts of these industries in their areas. Please note that several new technology-related codes are also being added at this time.
How to access the new codes in CVSuite:
Default CVSuite data settings are the 72 NAICS codes and 59 SOC codes that appeared in the CVSuite when it was launched. The 25 new NAICS codes and 26 new SOC codes are noted with an asterisk in data settings (see image below). By default these are not selected. See the data settings section of the user's guide for a tutorial on selecting codes.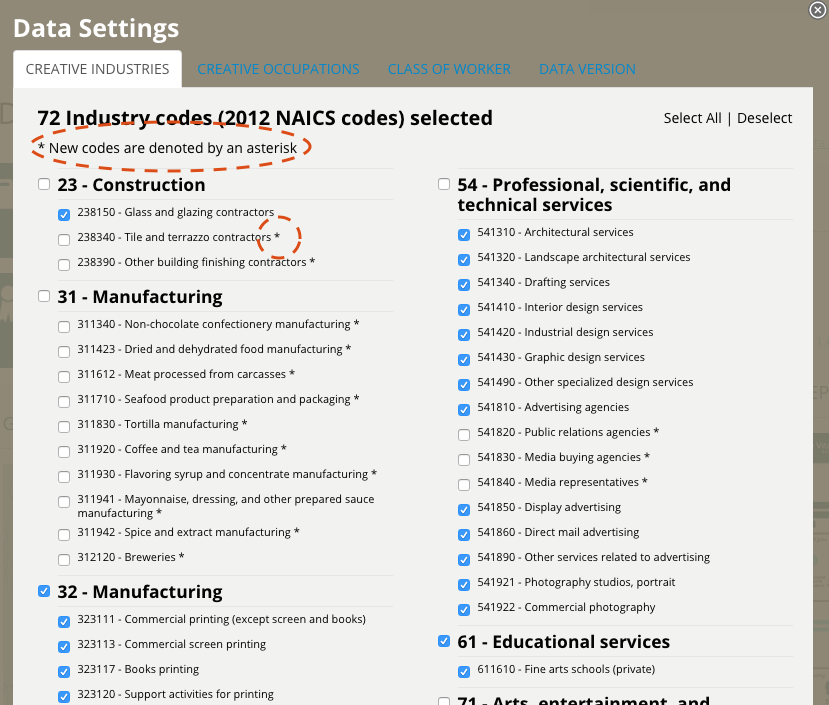 As a reminder, the CVSuite system allows each user to determine which codes reflect their definition of the creative economy and which creative industries and occupations are included in that definition. Every region is unique and not every industry and occupation may be relevant for the region of analysis. If you have not already done so, we recommend users spend time reviewing the codes available in the CVSuite and selecting codes that apply to the understanding of what the creative economy is in specific a specific region.
25 New NAICS Industry Codes (Full list of 97 CVSuite NAICS Codes)
238340 Tile and terrazzo contractors
238390 Other building finishing contractors
311340 Non-chocolate confectionery manufacturing
311423 Dried and dehydrated food manufacturing
311612 Meat processed from carcasses
311710 Seafood product preparation and packaging
311830 Tortilla manufacturing
311920 Coffee and tea manufacturing
311930 Flavoring syrup and concentrate manufacturing
311941 Mayonnaise, dressing, and other prepared sauce manufacturing
311942 Spice and extract manufacturing
312120 Breweries
445210 Meat markets
445220 Fish and seafood markets
445230 Fruit and vegetable markets
512132 Drive-in motion picture theaters
517110 Wired telecommunications carriers
541820 Public relations agencies
541830 Media buying agencies
541840 Media representatives
712130 Zoos and botanical gardens
712190 Nature parks and other similar institutions
722320 Caterers
722330 Mobile food services
722511 Full-service restaurants
26 New SOC Occupation Codes (Full list of 85 CVSuite SOC Codes)
11-2021 Marketing managers
15-1131 Computer programmers
15-1132 Software developers, applications
15-1134 Web developers
17-1021 Cartographers and photogrammetrists
27-2099 Entertainers and performers, sports, and related workers
27-4013 Radio operators
35-1011 Chefs and head cooks
35-1012 First-line supervisors of food preparation and serving workers
35-2013 Cooks, private household
35-2014 Cooks, restaurant
35-2015 Cooks, short order
35-3031 Waiters and waitresses
35-9031 Hosts and hostesses, restaurant, lounge, and coffee shop
47-2044 Tile and marble setters
47-2161 Plasterers and stucco masons
51-6041 Shoe and leather workers and repairers
51-6051 Sewers, hand
51-6052 Tailors, dressmakers, and custom sewers
51-7011 Cabinetmakers and bench carpenters
51-7021 Furniture finishers
51-7031 Model makers, wood
51-9051 Furnace, kiln, oven, drier, and kettle operators and tenders
51-9151 Photographic process workers and processing machine operators
51-9194 Etchers and engravers
51-9195 Molders, shapers, and casters (except metal and plastic)